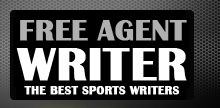 Yankee Addicts
Categories
Featured Sponsors
News published by
October 9, 2010
One unbeaten left. And boy do they have a challenge waiting for them. In order to avoid a blemish in their record, the Kansas City Chiefs will have to go to ...
October 7, 2010
In-season trades involving high-profile players are pretty typical. Contending teams pick up big-time talent from teams with no shot in exchange for draft picks and/or prospects. Have you ever seen ...
October 4, 2010
It's no secret that the New England Patriots quarterback loves throwing to Randy Moss and Wes Welker. This season, however, Brady has found a new toy in rookie tight end ...
September 23, 2010
The weak link gets weaker. Coming into the season the New England Patriots running backs posed the biggest question on the team, at least for the offense. A group plagued by injuries, ...
September 20, 2010
Prior to the New England Patriots matchup against the New York Jets, I wrote up 10 keys to success for the Patriots. One thing I overlooked: the Patriots needed to ...
September 19, 2010
The New England Patriots came out on fire in their opening week victory over the Cincinnati Bengals. Now they have a chance to send a statement to the rest of ...
September 15, 2010
For the past five Wednesday's, NFL fans have gotten the chance to get exclusive access to the New York Jets training camp thanks to the HBO show "Hard Knocks." With ...
September 10, 2010
Two high-profile New England Patriots players are pining for contract extensions. One is going about it the Patriot way; the other, not so much. Franchise quarterback Tom Brady and prolific wide ...
September 9, 2010
Are you ready for some football? The NFL is back in action, starting with the New Orleans Saints beginning their title defense against the Minnesota Vikings, the team that they ...
September 1, 2010
The New England Patriots were dealt a huge blow Tuesday as cornerback Leigh Bodden was placed on injured reserve with a shoulder injury. Bodden played 15 games last season as a ...