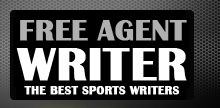 Yankee Addicts
Categories
Featured Sponsors
News published by
July 22, 2010
Max Hall Former BYU quarterback Max Hall says that he is trying to give the Arizona Cardinals every reason not to cut him. Hall left Quarterback U with the most victories (32) ...
July 14, 2010
Former BYU running back Harvey Unga is hoping to hear his name called during Thursday's NFL Supplemental Draft. Meanwhile, with fall camp looming about three weeks away, the Cougars are trying ...
June 21, 2010
When former BYU athletes look to take their performance to the next level, many are turning to Dave Stroshine of ASAP Training in Orem. Fahu Tahi, Manase Tonga, Fui Vakapuna and ...
June 18, 2010
BYU on the outside looking in? The Board of Trustees and the administration at Brigham Young University have a decision to make. Are they willing to to do what it takes to ...
June 16, 2010
Former BYU Cougar Fahu Tahi has a thankless job. He's the lead blocker for the best running back in the NFL. The 6′0″, 258-pound fullback has found a home ...
May 26, 2010
Jordan Black - Courtesy MaxPreps Alta High's Jordan Black signed a letter of intent to play for the BYU Cougars this past February. The decision was a surprise to many who knew ...
May 19, 2010
Harvey Unga has played his last game as a BYU Cougar and his former teammates are now left with the task of moving forward without their team leader on offense. Jay ...
May 5, 2010
  I just spoke with Former BYU DE Jan Jorgensen this morning. Though it's not looking good, he and his agent are still hoping that an NFL team will give him ...