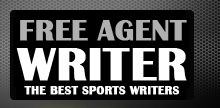 Yankee Addicts
Categories
Featured Sponsors
News published by
March 30, 2011
Like any regular season, the time between the Super Bowl and the Draft is normally a time set aside for trading, dealing, free agency or maneuvering for draft picks. If ...
March 14, 2011
Okay, we can argue the good and bad sides to the NFL lockout. We can argue the money, that most of us will never see in our lifetimes, is being ...
February 6, 2011
It's about time to change things that no longer work, for a better way. The antiquated system known as the NFL Hall of Fame nominating committee toyed around for almost seven ...
January 23, 2011
According to several different media sources, Hue Jackson and Chad Ocho Cinco have been trying to work their magic, with Chad hoping to lure suitors for his talents, which some ...
January 16, 2011
And so it continues to change in Oakland. John Marshall, who worked to rebuild the Raiders run defense is now unemployed, after being told that his contract, like Tom Cable's would ...
January 9, 2011
One week ago, the Oakland Raiders were looking at their last week of the 2010 football season. A fan of the Raiders could look at the season as one that ...
December 31, 2010
The Raiders and the Chiefs have both seen how fates played out. The Raiders, improved from five wins last year to seven this season, were alive for a playoff berth ...
December 28, 2010
Going into this season, many wondered how the offense and defense would be changed considering the shakeup with the coaching staff. Tom Cable's offensive duties were slimmed down, with Hue ...
November 26, 2010
A day after the Pittsburgh debacle, the boo-birds were back out in force. How could so many people instantly go blind to the last five weeks? For one, the Raiders did have ...
November 20, 2010
Looking at what the Raiders have done and done well this season, the Steelers have probably broken down film to figure out what weapons to expect. Darren McFadden. Zach Miller. Insert any player ...