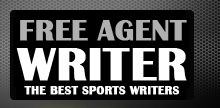 Yankee Addicts
Categories
Featured Sponsors
News published by
April 24, 2011
With the NFL draft quickly approaching fans are busy speculating what their team will do in the draft.Here in Raider-Nation a common theme among Raider fans is expecting them to ...
February 16, 2011
In 2010 the Oakland Raiders had a great draft. All nine of the players the Raiders drafted made the team and throughout the season, four of them would make it ...
February 10, 2011
Many say it takes three years to actually grade a draft class, but despite that they receive grades by experts and fans alike before they even step onto the field.Though ...
January 4, 2011
Two days into the offseason and rumors about the coaching staff are flying. We've heard stories suggesting the Raiders will not retain Tom Cable, that Hue Jackson will be promoted ...
December 31, 2010
This year, the Raiders were expecting playoffs come January. The team made great improvements in the offseason, the rest of the division was looking vulnerable and they had their easiest ...
November 9, 2010
The Raiders are coming off of their third straight win, including two wins over divisional opponents. This team is looking exceptional and has been on a roll advancing to above .500 ...
November 4, 2010
All season one of the Raiders main concerns has been the offensive line, specifically left-tackle, center and right guard. It would seem that now, finally, the Raiders are looking to improve ...
October 31, 2010
This week the Seattle Seahawks No. 2 ranked rushing defense and the Oakland Raiders No. 3 ranked rushing attack are set to square off in Oakland. Could this be the classic case ...
October 28, 2010
The Oakland Raiders are coming off a 59-14 dismantling of their division rival Denver Broncos. Easily one of the most lopsided contests in either team's history. But after total domination of the Donkeys, ...
October 22, 2010
It would seem as though Raider fans have been taken as fools. Last year we were led to believe that all of the offensive failures were all on one position and ...