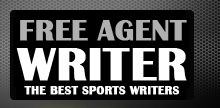 Yankee Addicts
Categories
Featured Sponsors
News published by
July 3, 2010
The Road to perfection is long and hard and every team dreams of going 16-0. The 2010 Raiders are much improved and should have a chance to win every game this ...
July 2, 2010
After making a colossal reach for the hype machine that is Tim Tebow, the Denver Broncos have become one of, if not the, most talked about teams in the NFL. While Tebow ...
July 1, 2010
Yes, I know that's not a real Madden cover. But who knows, maybe that's what it will look like in the near future? The full player rankings for the Oakland Raiders ...
July 1, 2010
The Raiders have had a pretty busy off-season so far. They revamped the defensive front seven, brought in a new QB, and added depth to nearly every position. Conventional wisdom would ...
June 25, 2010
The Raiders have had an awesome offseason and are now very much a different team than they were last year. With that said, Raider fans are very excited looking into the ...
June 24, 2010
With the offseason looking as slow as ever, boredom encouraged me to scour the rumor mills and Raider forum pages in search of rumors. Here's a look at 10 Raider rumors ...
June 20, 2010
In 2009, the Raiders statistically ranked seventh against the pass, while Tyvon Branch led all defensive backs in tackles. Branch also consistently shut down many of the league's top ...
June 19, 2010
If there is a position where the Raiders are stacked at with talent, it is defensive end, and for good reason. The Raiders rarely blitz and often rely on their ...
June 16, 2010
Last year the Raiders return game was pretty much dead. But it would seem as though the Raiders are looking to change that in an attempt to win the field position ...
June 14, 2010
This off-season the Raiders have been busy. They've had a great draft and have made some great free agent signings, seemingly improving on nearly every aspect of the team: the ...