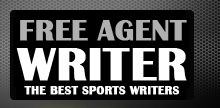 Yankee Addicts
Categories
Featured Sponsors
News published by
February 27, 2011
I've seen the film.  I've seen the workouts.  I've seen the running moves, I've seen the throws.  I've seen the good and the bad, the touchdowns and the inaccurate throws ...
December 14, 2010
What's wrong with the Jets?  The question has been asked millions of times by as many people over the past 36 hours or so.  Who is to blame for their ...
March 20, 2010
Tom Brady's noticeable absence from offseason voluntary workouts has sparked more than a few conversations on sports radio throughout New England over the past week. But according to reports out ...
March 9, 2010
According to a popular blog, Leigh Bodden's deal to re-sign with the Patriots is officially done. The deal is reportedly for $25 million over five years, with $10 million of ...
March 9, 2010
In the modern-day version of the children's game "Telephone" otherwise known as Twitter, what starts in one place can travel quickly and gain ground quickly along the way. Unlike that game ...
March 9, 2010
Just a few short days after creating a slew of questions in fans' minds at the tight end position in New England, the Patriots seem to be ready to begin ...
March 9, 2010
While this off season has seemed fairly quiet for New England thus far, the Patriots have quietly been in the process of re-signing several important free agents.  They also placed ...
March 8, 2010
Just monitoring rumors around the internet, and saw something interesting posted regarding Marques Douglas.  It's believed that the Patriots are interested in him, so I thought I'd tell my readers ...
March 8, 2010
According to a recent report  on The Boston Herald website, Leigh Bodden is looking forward to a meeting arranged in Houston with the Texans scheduled for tomorrow. After touching down in ...
March 7, 2010
Announcing their second signing of a pro bowl player (Kassim Osgood) in as many days, the Jacksonville Jaguars have signed DE/LB Aaron Kampman.  Kampman was one of the best free ...