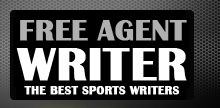 Yankee Addicts
Categories
Featured Sponsors
News published by
May 11, 2013
George Sauer, the Jets leading receiver in Super Bowl III and four-time AFL All Star, died on May 7 according to the New York Times.  The shifty slot receiver who ...
February 12, 2013
With the Super Bowl now a memory and the winter trudging along, the NFL is in perhaps its quietest period of the year. About the only thing to do now ...
January 27, 2013
As the NFL offseason progresses for the 30 teams not participating in the Super Bowl, hopeful NCAA players are starting to sort out their futures in this game.With the Senior ...
January 2, 2013
It's no secret that the New York Jets have a ton of holes to fill on the roster.From impending free agents to salary cap casualties to players who performed poorly, ...
December 30, 2012
Even though it's only been 16 weeks, it seems like a lifetime ago when the New York Jets beat the Buffalo Bills 48-28 on opening day.Mark Sanchez was slinging the ...
September 30, 2012
The big storyline in the New York Jets' game against the San Francisco 49ers this week is how the team will deal with life without Darrelle Revis.Kyle Wilson will shift ...
September 26, 2012
While everybody was focused on questions relating to Darrelle Revis at Rex Ryan's Monday press conference, Ryan concluded the press conference with a nod to his Pro Personnel Department.  "I ...
September 12, 2012
If the name Travis Tripucka sounds vaguely familiar to NFL football fans, it should.Tripuka is the son of former NBA all-star Kelly Tripucka and grandson of former AFL all-star quarterback ...
August 5, 2012
According to a release by the New York Jets on their Twitter feed, x-rays on Santonio Holmes' ribs came back negative.  He is listed day-to-day as he deals with soreness.It ...
July 1, 2012
Hey folks, remember Jim Kelly?The quarterback known mostly for losing all four Super Bowls in which he played?The guy who threw 28 interceptions in 17 career playoff games?Well he's the ...