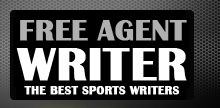 Yankee Addicts
Categories
Featured Sponsors
News published by
April 9, 2011
Let's admit it now: Tim Tebow will never be an elite quarterback, and he certainly won't get there with the Denver Broncos. His chances in the Mile High City disappeared when ...
January 4, 2011
Forget Jim Harbaugh. The Denver Broncos don't need him. That's because Jim Harbaugh is really only an exciting candidate because it could mean he was bringing along Andrew Luck. Some fans ...
December 8, 2010
Following a disappointing 2007, Ted Sundquist was fired from his position as GM of the Denver Broncos. He simply did not have the sway of Mike Shanahan. Yet in his day, ...
November 6, 2010
The topic has been raised throughout the blogosphere all week long. Everyone knows now that Josh McDaniels is the primary object of Denver Broncos' fans wrath following yet another humiliating loss. ...
November 1, 2010
Josh McDaniels needs to get out of Denver. The guy made for one heck of an offensive coordinator, but his time as a head coach in Denver shouldn't extend past this ...
October 5, 2010
Finally, I am going to lay out the obvious. An article titled, "Tim Tebow Looks Great On His Night Out At Dinner," gets five times as much attention from fans as ...
October 4, 2010
It is starting to appear that the Denver Broncos made a mistake by selecting Tim Tebow in the first round. The other first round selection the Broncos made, Demaryius Thomas, is ...
September 30, 2010
After the surprising draft of Tim Tebow back in April, the Denver Broncos have seen amazing improvement from starting quarterback Kyle Orton. Orton, who has had some difficulty in the red ...
September 21, 2010
He will be remembered as an electric talent on the field. Kenny McKinley was one of Josh McDaniels' first selections to begin building the Denver Broncos franchise the way he wanted ...
September 18, 2010
Help! I'm in a strip club being sexually harassed by all of these naked women! That would be the male version of Inez Sainz's comical story. Apparently, after she walked into the ...