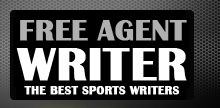 Yankee Addicts
Categories
Featured Sponsors
News published by
September 14, 2010
For devoted Denver Broncos' fans feeling disappointed with the result from Sunday's game, there is definitely a bright spot. The days of worrying about the Denver Broncos, quarterback security are ...
September 11, 2010
Well, the NFL season is officially underway. For most people, who aren't insanely obsessed, this is just another day in the 365 day a year devotion that is following the NFL. For ...
September 6, 2010
I've started growing weary of the ridiculous statements spewing forth from the exaggerating blob. Rex Ryan used to be a highly respectable individual, but at some point in the past 7 ...
September 1, 2010
It was rumored that Tuesday would be the day for Knowshon Moreno's return to practice, and with the Denver Broncos coming off of an impressive preseason win (as impressive as ...
August 26, 2010
I read a great article recently on the "Denver Broncos' Chemistry Experiment."I can't remember which major sporting news source published it, or for the life of me who wrote it, ...
August 23, 2010
Back in 1998, in a little town called San Diego, California, an old quarterback who couldn't shake the "loser" tag and a mid-career gunslinger coming off of a Super Bowl ...
August 20, 2010
I of all people would know. I have been, amongst the Denver Broncos community, one of his biggest doubters. What I saw on the field against Cincinnati was a raw, impassioned performance ...
August 8, 2010
This year's draft class for fantasy football players can essentially be described in one word: Deep. For most leagues, outside of the top four-to-six running backs, everything gets very hazy. And I ...
August 6, 2010
Fantasy football has turned into a game of preseason value assessments. All of the safe picks in the world and clinging to draft strategy won't do your team any good; the ...
August 6, 2010
Well, I just spent a nice, long week in the very northern parts of Idaho, up next to the Canadian border, completely away from news, cell phones, and Internet. When I ...