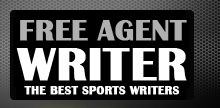 Yankee Addicts
Categories
Featured Sponsors
News published by
November 6, 2010
Sure, Eli Manning and the Giants are on top of the NFC East.   But, through the first eight weeks of the season, they've only played one divisional rival.   Which of ...
October 17, 2010
After the Giants lost to Tennessee and fell to 1-2, things seemed very grim.Their next two opponents included an undefeated Chicago Bears team and the league-leading rushing Houston Texans.But lo ...
September 20, 2010
This is Reid Davenport, blogging about the second meeting between Peyton and Eli Manning.   With the Giants coming off a victory over Carolina, and the Colts looking to rebound ...
September 1, 2010
Start spreading the news, Matt Leinart's leaving Arizona real soon.  Reports have surfaced that the Cardinals are actively trying to deal the Heisman winner, and the New York Giants are ...
August 1, 2010
It's the rookie quarterback crew.   With two Heisman winners and the all-time winningest quarterback in NCAA football history entering their rookie seasons, the paths that these gentlemen run down is ...
July 25, 2010
The hardest prediction in all sports: what to expect from an NCAA football star who goes pro. What comes to mind is Ryan Leaf being drafted just one pick below Peyton ...
July 15, 2010
There has been a lot said about the Giants' chances in 2010. Most of it bad.  Most of it I don't see. How are people speculating that New York is going to ...
July 8, 2010
It's anyone's ballgame in the NFC East this season. Washington has a new coach, Philadelphia starts a new era without McNabb, and Dallas looks like they're ready to play. The Giants know ...
June 25, 2010
The ghost of the Giants past and future failed to bring the organization good fortune this week. Giants rookie and former LSU star Chad Jones piled his car into a telephone ...
June 10, 2010
The NFC East has not been exactly static this off season. The division has seen coaches come and go, a big-named quarterback switcharoo and a brand-new stadium get the ...