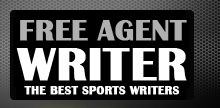 Yankee Addicts
Categories
Featured Sponsors
News published by
April 9, 2011
We all know that the Giants were eight minutes away from all but wrapping up the NFC East in week 15.  Michael Vick and the Eagles came roaring back and ...
April 2, 2011
Many mock drafts have the Giants drafting a defensive lineman with their first pick.  However, the holes in their linebacking corps and offensive line are substantially larger and must be ...
March 27, 2011
The Giants are one of the 23 teams who received compensatory picks for the draft in April, according to the NFL.   They received two additional sixth-round picks, bringing their total amount ...
March 5, 2011
Whether it's because he'll never be as prominent as his brother Peyton or because of his draft controversy in 2004, Eli Manning has always been a target for cynics.   Keeping ...
February 18, 2011
Even though it was a mere three years ago, it seems almost nostalgic to mention the Giants' Super Bowl victory over the Patriots. In the three seasons since that victory, the ...
February 12, 2011
I feel like I'm arguing for motherhood and apple pie on this one, but it needs to be said.  The bottom line is, if the Giants want to be Super ...
January 30, 2011
Before I begin spewing about Plaxico Burress' potential reunion with the Giants, let me start with a bit of a disclaimer:I am not, in any way, shape or form defending Burress' ...
December 11, 2010
Wide receivers Steve Smith and Hakeem Nicks are expected to play Sunday against the Vikings, according to ESPN. Smith has missed four games and Nicks has missed two, and their potential ...
December 3, 2010
Let's just say, I've felt better after a win than I did after last week's close call with the Jaguars. I'm not being overly pessimistic nor do I deserve a tongue ...
November 13, 2010
There's no denying that the Giants are on a bit of a roll.After winning five straight games, the most recent of which was a 41-7 clobbering of the Seattle Seahawks, ...