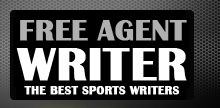 Yankee Addicts
Categories
Featured Sponsors
News published by
January 15, 2011
"Any change, even a change for the better, is always accompanied by drawbacks and discomforts."—Arnold Bennett, English novelist   With the departures of Eric Mangini and Rob Ryan, the Browns will fall ...
April 25, 2010
Randy Lerner hired Mike Holmgren to come to Cleveland and change the fortune and path of our beloved and beleaguered Browns. Holmgren brought in Tom Heckert, as well as a ...
April 6, 2010
Monday, the Rams released veteran quarterback Marc Bulger to avoid paying him the 8.5 million he is due this upcoming season. The move also presumably positions them to take Sam ...
March 24, 2010
In his most recent press conference, Cleveland Browns President Mike Holmgren addressed many issues. He discussed the quarterback situation and why he traded Brady Quinn and Kamerion Wimbley. He also ...
March 16, 2010
Say what you want about Brady Quinn and his exit from Cleveland. He was doomed, right alongside Derek Anderson, the moment Mike Holmgren came to Cleveland. Holmgren is one of the ...
March 13, 2010
Browns GM confirmed today that the Browns have signed Troy Smith to a three-year contract worth $8 million, including $2.5 million in guaranteed money. The Ravens, who did not meet ...
February 18, 2010
It is presumptuous at best to offer a full seven round mock draft before the combine, free agency, trades, and many other factors shape NFL rosters and the draft picture. ...