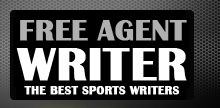 Yankee Addicts
Categories
Featured Sponsors
News published by
September 21, 2010
Arapahoe County Sheriff Grayson Robinson said authorities were called to Denver wide receiver Kenny McKinley's home in Centennial and found his body in a second-floor bedroom with what appeared to ...
September 20, 2010
Pro Bowl wide receiver Vincent Jackson is trying to get traded as soon as possible. But he's not the only veteran player hoping to switch area and zip codes.At least ...
September 17, 2010
It's week two and already Fantasy Football season is filled with surprises.Who knew? Who woulda thunk it?Who could have guessed that after running McNabb out of town the Eagles would ...
September 15, 2010
After further review, Darrelle Revis is no fan of Randy Moss, which makes this week's game within a game that much more interesting.In January of this year ESPN ran a ...
September 14, 2010
There are several reasons that the Jets lost their first game of the season. Talking more than playing. Poor offensive numbers. Waking a sleeping bear named Ray Lewis.But the one ...
September 13, 2010
Mexico's TV Azteca reporter Ines Sainz was reportedly harassed while at the New York Jets' facility a few days ago.The NFL is investigating, and several other organizations are also getting ...
September 11, 2010
It's Friday and the NFL regular season is about to really get underway this weekend.Sure we got to wet our beaks a little last night with Minnesota vs the New ...
September 10, 2010
Miles Austin is in the news for signing a new contract extension.Jerry Jones made sure it was a memorable press conference by sealing the deal with:"I've never felt like, when ...
September 9, 2010
According to several sources, Patriots QB Tom Brady was involved in a two-car accident Thursday morning.The accident reportedly happened at Commonwealth Gloucester Avenues near Brady's home around 6:30 a.m.Brady did ...
September 7, 2010
Since it is football season, what better way to decorate your man cave than to go out and buy the an NFL Cheerleading Calendar.Nowadays, the calendars are pretty cheap, and ...