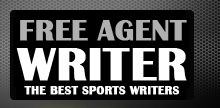 Yankee Addicts
Categories
Featured Sponsors
News published by
October 12, 2010
As a Trojan fan, I feel the average Jets fan's angst. You want to love Mark Sanchez, but he constantly makes you twitch. He did it to us in LA ...
October 11, 2010
The Kansas City Chiefs fought hard to stay undefeated, keeping their game against the Colts close throughout. But it took a run by the Colts' third string running back late in ...
October 11, 2010
One way or another, this is going to be a memorable season—either because of all the parity and the fact that there are no undefeated teams in the league by ...
October 8, 2010
And so it begins again. I'll be honest. I have vested interest in this story. My fantasy team is struggling so while trolling around in the scrap heap, I saw ...
October 5, 2010
Week 5 is upon us in fantasy land and some of us have taken some serious hits. I felt like those were my ribs that were roughed up in Philly ...
October 1, 2010
The fourth week of NFL games is upon us. Here's some of the latest info on what's moving and shaking in the league right now. Some guys are still on the trading ...
September 30, 2010
Marshawn Lynch is a hot commodity right now.In his present state, he is one of three backs on a mediocre team, fighting over carries.On another team he could be the ...
September 29, 2010
According to all the entertainment blogs, Kristin Cavallari and Jay Cutler are the real deal.The sources revealed: "They laughed and had great conversation over their filet mignon meal.Cavallari tweeted on ...
September 27, 2010
After three weeks of the season, we are getting close to being able to separate the teams that are going to make this season interesting, and the ones that are ...
September 21, 2010
There are some pretty big point spreads on some of the games this week.This is probably because teams are settling in and the folks who set the lines are getting ...