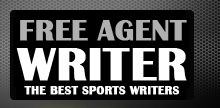 Yankee Addicts
Categories
Featured Sponsors
News published by
January 17, 2017
Lady Gaga likes to do things unconventionally, and it appears her Super Bowl halftime show will be no different. According to Oli Coleman of Page Six, the singer is planning to ...
January 16, 2017
George Godsey will no longer be offensive coordinator of the Houston Texans after the two sides decided to mutually part ways, the team announced Monday.  "I'm grateful for the tireless work ...
January 16, 2017
The Pittsburgh Steelers never found the end zone, but they did enough to earn an 18-16 win over the Kansas City Chiefs in Sunday's AFC Divisional Round matchup at Arrowhead ...
January 13, 2017
Only eight teams remain in the NFL playoffs, which means everyone else is focused on how to improve for the future. The most notable event in the offseason is the NFL ...
January 13, 2017
The Los Angeles Rams have hired Wade Phillips to be the team's new defensive coordinator, ESPN's Adam Schefter reported Thursday. This comes shortly after L.A. announced the hiring of 30-year-old Sean McVay as its ...
January 11, 2017
Chicago Bears running back Jordan Howard has been selected to the Pro Bowl as an injury replacement, Rich Campbell of the Chicago Tribune reported Wednesday. The Bears' official Twitter account celebrated the accomplishment ...
January 10, 2017
With the college football season officially over, many of the top players in the country are now going to shift their focus to the NFL draft. The Clemson Tigers beat the ...
January 10, 2017
The ugly marriage between the San Francisco 49ers and the city of Santa Clara, California, continued with the team filing a new lawsuit Friday. While the city believes the team has ...
January 9, 2017
The New York Giants have been accused of trashing the plane that took them home following their loss to the Green Bay Packers on Sunday, although the team denied the ...
January 9, 2017
The NFL is reviewing the Miami Dolphins' use of the concussion protocol for quarterback Matt Moore during Sunday's 30-12 loss to the Pittsburgh Steelers, Ian Rapoport of NFL Network reported ...