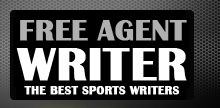 Yankee Addicts
Categories
Featured Sponsors
News published by
January 9, 2017
Pittsburgh Steelers linebackers coach Joey Porter was arrested Sunday night on multiple charges, including aggravated assault, following the team's playoff win over the Miami Dolphins. The Pittsburgh police released a statement ...
January 8, 2017
Oakland Raiders wide receiver Michael Crabtree was ruled out for the remainder of Saturday's Wild Card Game against the Houston Texans in the fourth quarter as trainers continued to evaluate ...
January 6, 2017
There are currently six head coach openings around the NFL, although a few teams might move more quickly than others to fill their vacancies. The Los Angeles Rams are apparently looking ...
January 4, 2017
The finalists for the 2017 NFL Hall of Fame class have been announced with plenty of notable names on the list. Of the 15 modern finalists, only five will be honored ...
December 30, 2016
The NFL playoffs are still another week away, but the results of Week 17 will play a big role in what will happen over the next month. Although only two postseason ...
December 29, 2016
It turns out an inspirational halftime speech doesn't land quite as well when the team is down 27-0. New York Jets receiver Brandon Marshall attempted to motivate his teammates during Saturday's ...
December 28, 2016
Former New England Patriots tight end Aaron Hernandez has already been found guilty of one murder, although more convictions could be on the way. Almost two years after being sentenced to ...
December 28, 2016
The NFL suspended Tampa Bay Buccaneers running back Doug Martin four games Wednesday after he failed a drug test, per Adam Schefter of ESPN. Ian Rapoport of NFL Network provided a breakdown ...
December 27, 2016
While 10 of the 12 playoff spots have been claimed, there is still a lot of uncertainty heading into Week 17. Only the Dallas Cowboys have their seed locked up, meaning teams ...
December 26, 2016
NFL teams have been battling for four grueling months, but in many cases, the entire season will come down to one game. Even with several spots locked up, the final few ...