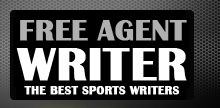 Yankee Addicts
Categories
Featured Sponsors
News published by
April 26, 2011
Even in a year with a lockout, interest and buzz about the 2011 NFL draft is still high. But, we often get so caught up in the present (myself included) ...
April 23, 2011
First of all, I am relieved to hear that Brandon Marshall will apparently be okay after he was reportedly stabbed by his wife Michi Nogami-Marshall. In fact, sources have reported that ...
April 13, 2011
Well, it's just about two weeks away from the 2011 NFL Draft and rumors are being spread like a healthy dose of cream cheese on a bagel. Distinguishing the rumor or smokescreen ...
April 8, 2011
In time of uncertainty with the NFL and the players association, trade federation or whatever they are calling themselves these days, embroiled in courtroom banter, it might be a good ...
April 4, 2011
What makes a rookie an immediate starter in the NFL draft? There are several factors actually, but none provide a singular, definitive answer. If an NFL team doesn't have a reliable existing ...
March 30, 2011
I am not going to pretend that I know exactly which players from this year's NFL draft are going to be future Hall of Famers or Super Bowl Champions. I also ...
March 25, 2011
Recent reports have LSU cornerback Patrick Peterson, a possible selection as the number one pick overall, scoring a nine on the Wonderlic Test, the NFL's version of an IQ test. ...
March 22, 2011
So here we go again with trade rumors or mild conjecture about the futures of Kevin Kolb and Carson Palmer and how they will affect a particular team's draft status. CNNSI.com's ...
March 19, 2011
Earlier this week, I identified 12 possible "sleepers" among NFL draft prospects on offense. If you missed that article, click here. Now, it's the defense's turn. Again, these are players ...
March 15, 2011
By now most "draftniks" and even casual followers of the NFL Draft know the top line prospects who are available this April. With everyday that passes it will be harder ...