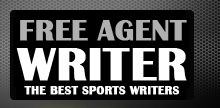 Yankee Addicts
Categories
Featured Sponsors
News published by
March 8, 2011
Well, the combine is an ancient, albeit positive memory for some players, while a painful, fresher one for some others. Regardless, we move on to the next aspect of the ...
March 3, 2011
The Packers don't really have needs. They are the Super Bowl Champions and they lost six starters to season-ending injuries who will now return and make them likely even stronger. This ...
March 3, 2011
Really, Brandon Harris is still available at 31? Pittsburgh always seems to be extremely fortunate or savvy in the draft (take your pick) so pencil in Harris to the defending ...
March 3, 2011
The New York Jets are going to be one team in transition this offseason. They will have several unrestricted free agents at some point in the offseason and have already ...
March 2, 2011
Let me start by saying I think that if the draft progresses as I have predicted to this point I feel that the Titans will probably try to trade out ...
March 2, 2011
Well, the NFL Combine is in the books and the first day of March is nearing a close, and the official countdown has begun to the NFL Draft, which starts ...
February 18, 2011
I'll admit it. I am not a big fan of mock drafts, especially in February before athletes work out and interview at the Combine and various pro days. But my ...
February 13, 2011
Certainly, there are a few concerns for the Miami Dolphins going into the 2011 season, that is if there is one. The team currently lacks stability on offense, especially at ...
January 21, 2011
As enthusiastic as new Miami Dolphins offensive coordinator Brian Daboll appeared to be in his introductory press conference on Wednesday afternoon, it's no secret that his success will be directly ...
January 8, 2011
Well, I'm certainly not going to rehash the full details of the Miami Dolphins coaching fiasco this week, because it would fill a book and we'll probably never truly know ...