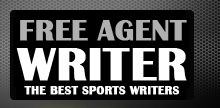 Yankee Addicts
Categories
Featured Sponsors
News published by
April 15, 2011
Marcell Dareus' cleaner history leads Denver to choose him over Nick Fairley.This is another unanimous decision among experts in the media. Considered to be tied for the number one most ...
April 15, 2011
Since being considered a possible No. 1 overall pick, former Auburn DT Nick Fairley has fallen down many draft boards to Tennessee at No. 8 and some even lower. He ...
April 15, 2011
The NFL Draft is one of the most watched, talked about and "predicted" sporting events in the world—certainly in the U.S.A. What really puts that into perspective is that it garners all of ...
March 25, 2011
Every year in the NFL Draft, there are seven rounds of 32 selections and 32 compensatory picks—256 in all. Also, every year, the last player chosen in the draft is ...
March 18, 2011
Earlier in the week, the NFLPA urged incoming rookies to boycott the NFL Draft which led to much laughing and finger pointing in their direction. Now they are planning an ...
March 12, 2011
This article is part of a two part series here at Bleacher Report to effectively rank the top 32 players entering this year's draft. Instead of doing so in mock ...
March 4, 2011
While we wait with bated breath for the NFL's new CBA—assuming it gets one before a work stoppage—the free agency period before the draft is getting shorter, making it that ...
February 11, 2011
NASHVILLE, TN—According to team sources, former NFL cornerback Jerry Gray is scheduled to interview for the recently available defensive coordinator position with the Tennessee Titans. Following former head coach Jeff Fisher's ...