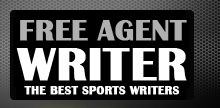 Yankee Addicts
Categories
Featured Sponsors
News published by
April 8, 2011
Most fans want the quick fix. Draft a quarterback now and begin the rebuilding process. I would say that while the QB is the most important position on the team, ...
April 8, 2011
This quarterback draft class may not have the one "sure thing" quarterback, but it does have a lot of quarterbacks who had very productive college careers and should be pretty deep.Once, ...
April 6, 2011
I can't wait for the draft to get here so that we can all finally be done with the conjecture. In the meantime here is a mock draft for your ...
March 23, 2011
After the 2009 season, I was convinced that Jake Locker was the best quarterback in college and worthy of the number one pick overall or at least a top ten ...
March 23, 2011
While writing mock drafts and reading them I have encountered a common comment, "That player won't be available at that spot." With this in mind I have decided to do ...
March 6, 2011
With his impressive performance this season, Cam Newton has launched himself towards the top of many teams draft boards. He is not a polished NFL prospect but his great athleticism ...
March 4, 2011
This year's combine was rather uneventful. Most of the top players performed about how you would have expected them to perform. Cam Newton is one player who's stock went slightly ...
February 25, 2011
After receiving feedback from my first mock draft and having an idea for how to fix the 49ers defensive line, I decided to do a second version of my mock. ...
February 23, 2011
This year I have done one San Francisco 49ers mock draft and found finding players to fill all of the holes that the Niners need filled very difficult. They need ...
February 17, 2011
There have been plenty of ideas on who the Niners should go get to be their quarterback for next year and their QB of the future.There has been a lot ...