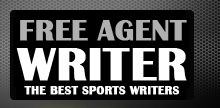 Yankee Addicts
Categories
Featured Sponsors
News published by
August 4, 2012
The St. Louis Rams held their annual intra-squad scrimmage for the first time at the Edward Jones Dome on Saturday.Billed as Fan Fest, the Rams practiced for about two hours ...
July 31, 2012
Head coaches are always in the spotlight—whether it's for good or bad reasons. If the team is doing well, the head coach gets all the praise. If the team does ...
July 25, 2012
When new coach Jeff Fisher and general manager Les Snead took over this year, the Rams had more holes than a block of Swiss cheese. They tried to fill those ...
July 25, 2012
There are four teams in the NFC West, so we'll look at the top four position battles for each team in the division. The Cardinals have more than just four ...
July 24, 2012
The St. Louis Rams have a long way to go to re-establish themselves as a contending team in the NFC West. St. Louis is coming off the worst five-year stretch ...
July 2, 2010
A glance at the top stories Friday afternoon on ESPN.com will tell you that The Netherlands beat Brazil in the World Cup; that Ghana and Uruguay played extra ...
June 3, 2010
While OTAs and training camp always have competition for jobs, the more interesting position battles for the Rams are at safety, wide receiver, tight end and ...
June 1, 2010
While there's no question that Steven Jackson is the best offensive player the St. Louis Rams have, an argument can be made that Oshiomogho Atogwe is the team's ...
May 11, 2010
ST. LOUIS — Bobby Carpenter is looking forward to a fresh start. The newest member of the St. Louis Rams was officially traded from the Dallas Cowboys on Monday in ...
May 3, 2010
ST. LOUIS—Sam Bradford's first weekend as a pro is over. Now the hard part begins. "This is the beginning of the work process for me," Bradford said Sunday following ...