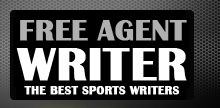 Yankee Addicts
Categories
Featured Sponsors
News published by
June 2, 2012
In the span of just five months, a lot has changed in the NFC North without much noise. Most of the bang during downtime has been around the Detroit Lions' ...
June 5, 2011
It has become one big game of pin the tail on the donkey for Josh McDaniels and the Broncos—a head coach who single-handedly shifted Denver from top shelf ...
May 21, 2011
The NFL lockout successfully brings out the best and worst in everybody. It brings out frustrated fans, and it brings out the urgency placed on coaches. Yes sir, Roger Goodell ...
April 8, 2011
Win the Super Bowl—prepare for the NFL Draft. Work never stops for the Green Bay Packers.Mock Drafts are successful in creating talk during this time of year. They outline the ...
March 30, 2011
The Packers are a no-nonsense franchise. A team that stays away from the medias vicious circle. An organization intolerant of petty and irrelevant issues. Not that you needed reminding of ...
March 28, 2011
Some athletes are born great. Some just get lucky.Then there's the Matthews family — a hereditary condition that has pulverized quarterbacks for nearly a century.It's rare to find a family ...
March 24, 2011
With age comes Derrick Mason, and with Derrick Mason comes age. The fountain of youth really exists? Baloney. Brett Favre would have soaked up every last drop. Or at the very ...
March 23, 2011
NFL Commissioner Roger Goodell took to the stands once again on Tuesday, lecturing fans, players and coaches alike on a new shift in the rulebook ahead of next season.Goodell's face ...
March 20, 2011
Search the name Aaron Rodgers in a household dictionary, and you'll find nothing. Search the Internet for the Green Bay Packers star quarterback, and you'll most likely come to several ...
March 19, 2011
Bored? So is the rest of America.  It's reality—and the feeling is yet to sink in. So the NFL locked out, huh?  Whoop-dee-doo.  It was going to happen; we had been warned ...