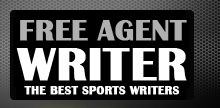 Yankee Addicts
Categories
Featured Sponsors
News published by
March 16, 2011
Win the Super Bowl and sign your head coach to a multi-million dollar deal.  Yep, it's been a fairly productive start to the offseason for the Green Bay Packers.When they ...
March 5, 2011
Are you the kind of fan who rarely attends a regular season game? Maybe you're the polar opposite, owning a costly season ticket?  Or perhaps you are most comfortable at ...
March 4, 2011
San Diego's first-ranked pass defense in 2010 received a boost on Thursday, when the Chargers signed former Indianapolis Colt and free agent safety Bob Sanders.  According to general manager A.J. Smith, ...
March 3, 2011
The CBA now sits in the hands of money hungry lawyers and other people with pockets full of power.  But even with the NFL's future so uncertain, many of the ...
March 2, 2011
You'd be stretched to find a team that isn't facing a serious quarterback dilemma sometime this offseason.  You'd also be stretched to find a head coach so willing to part with ...
February 27, 2011
There's something different about 2011's class of second year players, and for once, it doesn't bear an uncertain question towards their skill, athleticism or ability.For those that have been keeping ...
January 29, 2011
There is nothing the Green Bay Packers may have wanted more than a giant eraser during the 2008 regular season.  Extinguishing ex-quarterback Brett Favre's hoodoo has been a major challenge for ...
January 27, 2011
The Green Bay Packers are used to stiff competition this season, with the past three weeks being no picnic for Mike McCarthy's team with tough wins at Lincoln Financial Field, ...
January 22, 2011
Two of America's largest cities await their fate this weekend.  At the same time, both will have to wait one more week to potentially meet in the Super Bowl.It's a ...
January 20, 2011
AFC, NFC, it doesn't matter anymore.  This weekend is all about the Super Bowl.Sunday afternoon will play host to two tight affairs between the remaining four teams in the league.  ...