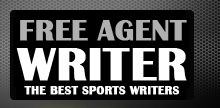 Yankee Addicts
Categories
Featured Sponsors
News published by
January 18, 2011
There are some things you just don't talk about in the NFL. When it comes to referencing a team's championship drought, this is often an area best left for the ...
January 16, 2011
"Go Pack Go" chants flooded the Georgia Dome as the Green Bay Packers dismantled the top NFC seed Saturday night, making short work of the Atlanta Falcons, 48-21.Quarterback Aaron Rodgers ...
January 14, 2011
Heading into Atlanta on Saturday night, quarterback Aaron Rodgers looks to be the chosen man when it comes to headlines and attention-seeking plays.  With one swift switch in momentum, though, ...
January 12, 2011
The glitz and glamour of the NFL's Divisional Round is normally enough to instill a whisper of fear into each head coach.  Somehow, New York Jets' front man Rex Ryan ...
January 9, 2011
Disbelief, shock and surprise. Those three simple words were the outcome of Saturday's Wild Card round to kick off the 2010 playoffs, as it's fair to say now that not even ...
January 8, 2011
The cheesesteaks are marinating in Philadelphia, Arrowhead Stadium is preparing for a whitewash of red, Seattle is remaining optimistic, and the Indianapolis Colts find themselves in a familiar situation against ...
January 4, 2011
It's playoff time, and that means each and every NFL hot shot will be doing their best to get their name on every highlight reel in the next three to ...
January 3, 2011
To rest or not to rest?  That was the question which awaited Chicago Bears head coach Lovie Smith ahead of Week 17.  After Sunday's trip to Lambeau Field however, Smith may ...
January 1, 2011
2010 was a year of promise for the Cincinnati Bengals.  Unfortunately for all of Marvin Lewis' hopes and dreams however, this season has turned out to be one very long ...
December 29, 2010
If there's one thing that the 2010 NFL season has proven so far, it's that you don't have to be a first-round draft choice to make an impact in this ...