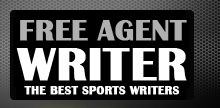 Yankee Addicts
Categories
Featured Sponsors
News published by
August 17, 2013
The Chargers really need to give Terrell Owens a call. Their depth at the receiver position—which wasn't very strong before they opened training camp—has been ravished by misfortune after misfortune. At this point, they ...
August 7, 2013
During Tuesday's practice, Eagles wide receiver Arrelious Benn suffered a torn ACL and will likely miss the entire 2013 season. After having already lost Jeremy Maclin to an ACL injury, the Eagles receiving corps ...
August 3, 2013
Cris Carter's new book "Going Deep" touches on a number of subjects, not the least of which include a plethora of derogatory remarks made about Terrell Owens. Par for the course ...
April 7, 2013
When the Atlanta Falcons signed Steven Jackson, they signed a Hall of Fame-caliber running back.Often overlooked during his tenure with the St. Louis Rams, Jackson has compiled a Hall of ...
March 30, 2013
When it comes to Terrell Owens, the common misperception has been that he's a bad teammate.The aforementioned—unsubstantiated, force-fed rhetoric that the media has crafted, packaged and shipped to the minds ...
February 13, 2013
After winning the passing title and receiving MVP consideration in 2010, San Diego Chargers quarterback Philip Rivers has fallen from that upper echelon of quarterbacks perceived to be elite by ...
February 9, 2013
Regardless of what the pundits might have you believe, one can make a legitimate case for Terrell Owens being the greatest wide receiver in NFL history."No way!"—Inebriated bar-goer screaming at ...
March 17, 2012
Just a few short days ago, the Miami Dolphins appeared to have a realistic shot at signing the hottest free agent in NFL history, Peyton Manning. With an up-and-coming defense to ...
September 4, 2011
As we approach the end of the 2011 offseason, questions surrounding Peyton Manning and his ability to start week one against the Houston Texans have taken center-stage. Despite breaking away from ...
June 24, 2011
Forget what the "NFL's Top 100 Players of 2011" would tell you; because neither the players nor the fans have proven themselves capable of producing sensible rankings by any substantive ...