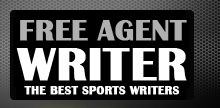 Yankee Addicts
Categories
Featured Sponsors
News published by
November 4, 2010
Much has been made as of late about JaMarcus Russell and how poor of a prospect many fans and analysts feel him to be. Labeled as the "greatest draft bust ...
November 3, 2010
As I was watched the countdown of the Top 100 Players in league history on NFL Network, I was astonished to see Barry Sanders ranked as high as number 17. As ...
November 2, 2010
While I have been quite busy as of late, I am going to take a moment to share my "quick thoughts" on a number of subjects surrounding the 2010 NFL ...
September 20, 2010
Peyton Manning playing in the NFL is simply unfair. What on earth is up with this guy? A QB rating of 145.5? After losing by double-digits in spite of his league-leading 433-yard performance ...
September 13, 2010
It appears as though the media still has its favorites and Randy Moss isn't one of them. Despite turning his career around, rewriting the Patriots record book, and becoming a ...
August 20, 2010
The Indianapolis Colts have to do something. Anything. Nothing should be their last option; the aforementioned should be their first. They need another quarterback desperately. Five completions during an exhibition game against the ...
August 5, 2010
With just days remaining before the first preseason game of the 2010 NFL season, it is time to take a look at the Top 10 passers the league has to ...
July 29, 2010
The media has to stop being so negative. At the very least, take the condescendence down a notch or two. If you're a fan of professional football, by now I'm sure you're ...
June 8, 2010
It just needs to be done. It won't, and the team will probably be fine in spite of another missed opportunity—but sometimes you need to step out of your comfort-zone and ...
March 14, 2010
Disappointment? I'm sure it's a word that has been both on the minds of Bears fans and on the tongues of sports-writers. After the blockbuster trade that landed Jay Cutler in Chicago last ...