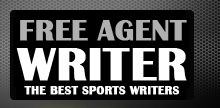 Yankee Addicts
Categories
Featured Sponsors
News published by
April 6, 2011
Dallas Cowboys tight end Martellus Bennett believes Tony Romo should compete for his job to earn the right to be named the starting quarterback. Bennett praised Jon Kitna's performance after ...
March 23, 2011
The NFL has passed a revised rule on kickoffs. The ball will be moved up to the 35-yard line from the 30, but touchbacks will remain at the 20-yard line.   There ...
January 26, 2011
In what is already a public relations nightmare, Jay Cutler's image continues to be tarnished.  Instantly after Cutler was removed from Sunday's NFC Championship game against the Packers, the Internet exploded ...
January 23, 2011
With the Chicago Bears down 21-14, driving down the field by the sensational play of third string quarterback Caleb Hanie, the Packers defense appeared to be vulnerable to any play. ...
January 23, 2011
The Chicago Bears are one win away from reaching the Super Bowl for the second time under Lovie Smith.  The only obstacle that stands between the Bears and their plane ...
January 21, 2011
Shonn Greene. Shonn "Motherf#@!&$" Greene. The man who was drafted in many fantasy football leagues in the early first and second rounds, who most likely destroyed many fantasy football teams ...