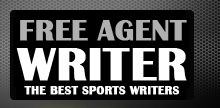 Yankee Addicts
Categories
Featured Sponsors
News published by
March 10, 2012
While the Miami Dolphins may be the best fit for free agent quarterback Peyton Manning on the field, Miami's culture doesn't appear to be what the four-time MVP is looking ...
March 10, 2012
The NFL Draft is often a crap-shoot, but every year there are several guys who are just ready to compete in the NFL from day one. In 2011 guys like ...
March 5, 2012
The San Diego Chargers will almost certainly not use the franchise tag on wide receiver Vincent Jackson and they apparently aren't close on a long-term contract, so the two-time Pro ...
March 5, 2012
The St. Louis Rams possess the No. 2 pick in the 2012 NFL draft, and with that selection comes a whole lot of power. The Rams could end up trading ...
March 5, 2012
Houston Texans outside linebacker/defensive end Mario Williams appears set to hit free agency next Tuesday, as the team has yet to engage him in contract talks. The Texans also won't ...
February 5, 2012
Rarely do the top two players taken in the NFL draft earn awards following their first years in the league. Well, this year we can say that both the Carolina ...