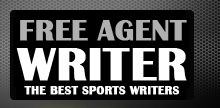 Yankee Addicts
Categories
Featured Sponsors
News published by
October 5, 2013
The sizzling Detroit Lions are coming off a big win at home against the Chicago Bears, but now they must face the always-dangerous Aaron Rodgers and Green Bay Packers at ...
September 22, 2013
So, the Cleveland Browns apparently traded Trent Richardson—the No. 3 overall pick in the 2012 draft—to the Indianapolis Colts for their 2014 first-rounder on Wednesday, per Gregg Rosenthal of NFL.com. The ...
September 21, 2013
Arizona Cardinals receiver Larry Fitzgerald practiced on Friday, but he's listed as "questionable" for Sunday's game against the New Orleans Saints, according to Josh Weinfuss of ESPN. The Cardinals are going ...
August 6, 2013
This isn't about who should start under center for the New York Jets this season. This is about setting your team up mentally. In that regard, Jets head coach Rex Ryan made ...
July 30, 2013
Perhaps the photo taken of Green Bay Packers rookie running back Eddie Lacy at Monday's practice was shot from a bad angle. Perhaps the second-round pick did gain a little ...
April 16, 2013
Every NFL draft has polarizing prospects who could go anywhere from the top 10 to the second or third round. Whether it be due to character concerns, a lack of elite ...
April 6, 2013
Baltimore Ravens quarterback Joe Flacco is doing pretty well for himself these days. He led the Ravens to a Super Bowl title, signed a lucrative extension and now gets to ...
April 6, 2013
The needs of a team can completely change throughout the course of the NFL's free agency period. Big signings are made that can single-handedly shore up an area of need.With ...
April 6, 2013
JaMarcus Russell may have lost some weight, but giving him another chance on an NFL roster is a waste of time.Russell recently told Bleacher Report he has cut down his ...
March 19, 2013
After losing Glover Quin to free agency, the Houston Texans have reportedly offered veteran safety Ed Reed a three-year contract, according to Aaron Wilson of The Baltimore Sun. Wilson tweeted on ...