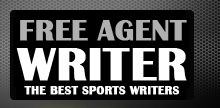 Yankee Addicts
Categories
Featured Sponsors
News published by
December 27, 2010
With the ending of the 2010 season, it becomes a time for roster turnover, new personnel, and new players. With the end on the horizon, young players who have yet ...
November 26, 2010
For the casual Cleveland Browns fan, Evan Moore is virtually still an unknown with his ability to show up in the game randomly, exiting as quickly as he entered. Recently ...
September 20, 2010
Through all the optimism and all the hopes of Browns fans leading into the 2010 season, Cleveland now sits winless at 0-2. Forget the fact that the Browns were supposed ...
August 17, 2010
Antonio Cromartie, Kyle Wilson, and Dwight Lowery currently rank as three of the top four cornerbacks on the New York Jets depth chart. The fourth? None other than Darrelle Revis.In ...
August 15, 2010
The LeBron James fiasco this offseason prompted many Cleveland fans to state that, "Cleveland always has been, and always will be, a football town."With that being said, Saturday night officially ...
July 21, 2010
There is no traditional hazing for Cleveland Browns rookies—head coach Eric Mangini would never stand for physical attacks on his players—but locker room humiliation on the other hand? ...
July 20, 2010
While the mainstream media wants you to believe that it always rains in Cleveland, the future looks sunny for one Cleveland Browns prospect - quarterback Colt McCoy. President Mike Holmgren ...
July 16, 2010
In a recent airing of Jim Rome Is Burning on ESPN, guest host Marcellus Wiley had the chance to sit down with Cleveland's Pro Bowler, and new member of the ...
July 8, 2010
In a surprise announcement Thursday evening, the Cleveland Browns acquired the veteran receiver presence that many fans were calling for. While it wasn't exactly the target they were expecting, ...
July 7, 2010
The 2010 Draft has long been in the books, through all the speculation and scouting reports, it'll soon be time for the rookies to lay it all on the line. Every ...