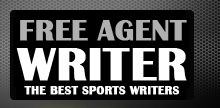 Yankee Addicts
Categories
Featured Sponsors
News published by
July 2, 2010
The season is coming up fast upon us, while sometimes not fast enough, but the trade deadline is drawing closer. When approaching the date, the rumors will start coming faster ...
June 28, 2010
Another harsh blow materialized for the Pittsburgh Steelers on Monday. Just a season removed from a Super Bowl championship, they've now lost underrated right tackle Willie Colon for the season. ...
June 25, 2010
New York Giants' third round pick and former Louisiana State University standout Chad Jones was involved in a very serious car accident this morning. The accident happened early on New ...
June 25, 2010
Ah the time has come again for ESPN to be taken over by the "Favre Watch" while thousands of analysts kick in their two sense on if he will or ...
June 23, 2010
With the 2009 arrival of new Browns President Mike Holmgren, the first course of action was evaluating the quarterback position. At the time the incumbents were Derek Anderson and Brady ...
June 22, 2010
For the last two seasons, the sole play-maker on the Cleveland Browns offense has been a special teams player. Is that a testament to his abilities or simply an ...
June 17, 2010
As the years go by, the NFL caters more to the entertainment side of television than to the actual sporting side. When television was invented, it was primarily used as ...
May 26, 2010
"Taking the next step" is referring to teams that are knocking on the door of becoming an offensive threat in the NFL. The teams mentioned have done enough in the ...
May 18, 2010
Despite increasing skepticism among Cleveland critics, Browns' receivers are knocking on the door for a breakout season. With a core of essentially three rookies, a kick returner and the most ...
May 14, 2010
After years of nothing but terrorizing the Cleveland Browns, Troy Polamalu is inadvertently helping to change the landscape of the Cleveland Browns. Known for his hard-hitting plays and physical ...