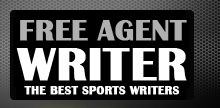 Yankee Addicts
Categories
Featured Sponsors
News published by
December 29, 2012
With college football bowl season in full swing, we're starting to get a better feel for which prospects will not only highlight the 2013 NFL Draft Class, but will also ...
December 26, 2012
The Miami Dolphins are making a free agency list and checking it twice. With as much as $50 million in cap space slated to be available entering the 2013 free agency ...
August 12, 2012
According to Izzy Gould of the Sun Sentinel, Miami Dolphins wide receiver Chad Johnson was arrested Saturday night on a domestic violence charge:    UPDATED: Police: Miami Dolphins WR Chad Johnson ...
August 8, 2012
Every thing we've deduced about the Miami Dolphins, thus far, are mere assumptions. The judgement we've passed on the team's trio of quarterbacks, positional battles and coaching changes are only ...
July 18, 2012
The Miami Dolphins might not have the capacity to win more than seven or eight games, but they certainly have the capacity to lose 11 or 12. In order to maximize ...
July 4, 2012
Reviewing the 2011 season, you can pinpoint countless blemishes on the Miami Dolphins' roster. Jeff Ireland is making a concerted effort to eradicate those blemishes, but Rome wasn't built in a ...
June 19, 2012
Back in May, Miami Dolphins' running back Reggie Bush made a bold declaration."I want the rushing title," he told the Sun Sentinel. It's great to see Bush aim so high, but ...
June 6, 2012
Once I heard that the Miami Dolphins agreed to become this year's Hard Knocks team, two moods simultaneously came over me: fear and exhiliration. Surely, this was Stephen Ross' doing, I ...
May 23, 2012
The Miami Dolphins completed its first organized team activity (OTA) practice today, and all eyes were focused on Ryan Tannehill and the 2012 draft class. Following today's practice and rookie camp—which ...
May 8, 2012
Analysts from virtually every major sports news outlet—ESPN, Sports Illustrated and NFL.com just to name a few—tabbed Ryan Tannehill "overrated" as the 2012 NFL Draft approached. We won't be able to ...