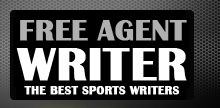 Yankee Addicts
Categories
Featured Sponsors
News published by
April 30, 2011
A highly disappointing 7-9 season left the Miami Dolphins in a bit of a tailspin. After splurging on high-priced free agents to bolster a roster led by an emerging Chad ...
April 30, 2011
The 2011 NFL Draft is finally in the books. Four months of tireless, recycled speculation and rumors have finally been put to rest, only to spawn a whole new wave ...
April 15, 2011
Once the Miami Dolphins were mathematically eliminated from 2010 postseason contention, their primary off-season need was extremely visible. The Dolphins' once-promising offense was sorely lacking speed and explosiveness. It had ...
April 7, 2011
Everybody and their grandmother loves a great mock draft. Nothing else amply replicates the feeling of excitement that arises on draft day. Thoughts of how your team's first round pick ...
April 6, 2011
With the 2011 NFL Draft nearly three weeks away, the Miami Dolphins will continue their nationwide tour of collegiate prospects, setting smokescreens and dropping hints as to who they might ...
April 4, 2011
Although the Miami Dolphins' recent draft history is marred by a long list of whiffs and gaffes, the team actually has a rich past of steals and gems. Don Shula ...
March 30, 2011
The first day of the 2011 NFL Draft is now officially less than one month away. Despite the persisting CBA chaos, all draft proceedings are carrying out as per usual. ...
March 28, 2011
If the owners and the NFLPA settle their differences and install a new CBA, the Dolphins will go into overdrive trying to acquire a quarterback to either provide competition or ...
March 23, 2011
The 2011 NFL Draft is merely a month away, yet an overabundance of questions over Miami's draft outlook persist. Football pundits seem to be connecting Mark Ingram to the Dolphins ...
March 16, 2011
While the CBA crisis continues progressing into an ugly publicity battle between players and owners, actual football talk is becoming increasingly sparse. But it is important to remember that at ...