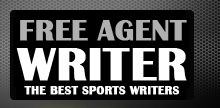 Yankee Addicts
Categories
Featured Sponsors
News published by
April 13, 2011
With this upcoming draft being one of the weakest in the history of my world-class falling-behind memory, it becomes harder to envision your team drafting any of these players, as ...
September 29, 2010
Have you ever dreamt of playing real-time fantasy football? Well, now your dreams have come true.  The people at FantasyLive.com have asked me to spread the word to the great readers ...
May 28, 2010
It's been quite some time since I published a mail bag.  That's mostly because it's been quite some time since I actually received an email about the Bears.  But, as I ...
May 13, 2010
With the 2010 fantasy football season a few short months away, I thought I'd throw out a preliminary report on how the Bears players stack up against the rest of ...
April 26, 2010
Now, don't get me wrong, drafting one of the better quarterbacks in the 2010 NFL Draft's sixth round is an excellent pickup. I understand that. But, don't the Bears have holes at ...
April 14, 2010
It pains me to write this article, because I have been the biggest proponent for the Chicago Bears to work a deal with the Denver Broncos for Brandon Marshall. But, with ...
April 7, 2010
With news circulating that the Chicago Bears may try and trade up in the 2010 draft to sneak their way into the second round to obtain a safety, I started ...
March 29, 2010
This entire article may come off as me whining, but that's what happens during the NFL offseason for an NFL junkie like myself.  So, in regards to your question, MNF, ...
March 24, 2010
Looking back at the 2009 NFL season, you realize just how great of a season it was. My job was to present to you the 10 best games from the 2009 ...
March 15, 2010
With NFL free agency in full swing, I thought I'd throw out a mini report card on the 10 biggest signings. I'm only taking into consideration players that switched teams, because ...