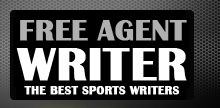 Yankee Addicts
Categories
Featured Sponsors
News published by
March 5, 2010
With news spreading that Julius Peppers is coming to Chicago to sign a contract with the Bears, it left me wondering why they had another scheduled visit with Chester Taylor ...
March 4, 2010
...Brandon Graham, DE, University of Michigan. Let me first start off by saying that I completely agree with Giants Mock GM Richard Resch that Sam Bradford is INEXPLICABLY still available in ...
February 23, 2010
...Reggie Stephens, Guard, Iowa State. Let's be honest, in the seventh round, you're just hoping to get lucky. And since the Bears need a lot of help on the offensive line, why ...
February 19, 2010
...Brian Jackson, CB, Oklahoma. The thing I like best about Jackson is that he is a big, physical cornerback.  I am convinced he is the type of cornerback that can be ...
February 16, 2010
...Offensive Tackle Ciron Black, LSU. Without having a pick in the first two rounds, the chances of getting an elite player are zero. The chances of trading up to get a pick ...