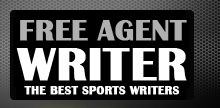 Yankee Addicts
Categories
Featured Sponsors
News published by
April 28, 2015
Only two days remain until the 2015 NFL draft commences, and analysts around the Web are scrambling to complete their final mock drafts before the Tampa Bay Buccaneers are officially ...
April 25, 2015
With less than one week remaining until the commencement of the 2015 NFL draft, league personnel is scrambling to obtain any additional valuable information regarding the year's top prospects. Of ...
April 14, 2015
The 2015 NFL draft is just over two weeks away, and as the first round inches closer, its outlook becomes murkier. Why is that? Smokescreens. At this time of year, teams begin ...
March 28, 2015
With a very active free-agency period stealing recent headlines, prospect workouts seem to have fallen by the wayside. After all, it's difficult to focus on pro days during the commencement of ...
March 24, 2015
A productive 2015 free-agency period pushed pro days to the back burner, as blockbuster trades and lucrative signings demanded headlines. With the activity now slowed, let's get up to speed ...
March 14, 2015
When the 2015 free-agency period began March 10, available top-tier NFL veterans found new homes at an alarming rate. Although, we're now four days into the process, and things have ...
March 14, 2015
Following a frenzied start to the 2015 free-agency period, the mass signings of lucrative deals have tapered off and teams have begun taking their time to make calculated decisions on ...
February 28, 2015
Sunday signifies the beginning of March. While many sports enthusiasts associate the third moth of the year with college basketball's March Madness—an absolutely enthralling tournament—it also begins the NFL's free-agency ...
February 28, 2015
The ever-changing landscape of the NFL continued late this week. The Atlanta Falcons announced the release of running back Steven Jackson, via Vaughn McClure of ESPN.com, on Thursday, and the ...
February 28, 2015
Workouts and interviews at the NFL Scouting Combine gave franchises a good idea of what this year's draft hopefuls bring to the table. Prospect evaluations will be ongoing through pro ...