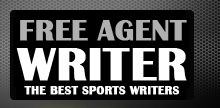 Yankee Addicts
Categories
Featured Sponsors
News published by
February 14, 2015
The 2015 NFL Scouting Combine is just days away, and while prospect workouts will surely change the landscape of the draft's first round, ongoing rumors regarding a certain franchise's interest ...
February 14, 2015
The 2015 NFL Scouting Combine allows prospects to showcase their skills and attempt to stand out from the masses in an effort to impress league scouts and executives. A total ...
February 7, 2015
Following the dramatic conclusion of Super Bowl XLIX, the 2015 NFL draft's selection order is set. However, that order isn't likely to remain the same through draft day. Trades are a ...
January 27, 2015
There are many reasons to watch the Super Bowl. For most of us, it's because we're diehard fans of the game and are hoping the season ends with an epic ...
December 27, 2014
While 10 of the NFL's 12 postseason spots have already been filled, the wild-card picture for both the AFC and NFC is nowhere near settled. On the AFC side the New ...
December 27, 2014
All 32 of the NFL's teams will be in action for the final time this season on Sunday. Week 17 will be the last time many fans see their favorite ...
December 27, 2014
With every Week 17 game taking place on Sunday, bettors aren't able to rely on the usual staggered schedule that allows them to fully concentrate their efforts on prime-time contests ...
December 13, 2014
We're only one Thursday Night Football game into Week 15, and the league's playoff picture has already been altered. Following the Arizona Cardinals' 12-6 victory over the St. Louis Rams, the Cardinals find ...
December 13, 2014
The Arizona Cardinals overcame their underdog label Week 15, defeating the St. Louis Rams 12-6 in a defensive struggle on Thursday Night Football. With that, bettors who were relying on the ...
December 6, 2014
Finding matchups to exploit and avoid is a necessary component for the success of fantasy owners throughout the regular season. However, with fantasy playoffs beginning in Week 14, locating these ...