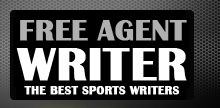 Yankee Addicts
Categories
Featured Sponsors
News published by
January 16, 2017
Nothing about the Pittsburgh Steelers' win should have been close Sunday night. And it wasn't close, with the Steelers throttling the Kansas City Chiefs in every area except the one ...
January 13, 2017
Seattle Seahawks wide receiver Doug Baldwin has a way of surprising you. He does it with routes that change direction but not speed. He does it with catches that seem to ...
January 11, 2017
Ultimately, there's only one measuring stick for a successful head coaching hire: wins. And to get more of them, a team needs the right fit for its current situation. The ...
January 10, 2017
Outside linebacker Jadeveon Clowney didn't show his true form for just the first time against the Oakland Raiders during the Houston Texans' Wild Card Weekend win. No, that strutting in ...
January 8, 2017
If you're not tied to the Green Bay Packers in any way—be it player, coach, fan or cheese head vendor—then their quarterback Aaron Rodgers is the scariest thing in your ...
January 8, 2017
It all seemed routine Saturday night. It seemed like suddenly the Seattle Seahawks' well-worn January football machine whirred to life. Nothing that happened as a team in the weeks before their ...
January 7, 2017
If we're being honest with ourselves, the opening game of the 2017 NFL playoffs is like that faint but still noticeable odor coming from your fridge. Something has gone wrong, ...
January 4, 2017
You'll notice a team popping up consistently throughout our year-end consensus NFL awards. Get used to it, because the Dallas Cowboys are set to shine for a while with their ...
January 3, 2017
So you're an NFL general manager and your 2016 season sucked.  Insert whatever softer or harsher description you'd like, but the ending doesn't change. You'll be watching the playoffs instead of ...
January 2, 2017
Sustained success in the NFL often starts when a franchise is at its lowest point. And the rockiest bottom comes on Black Monday, a time when the reset button gets ...