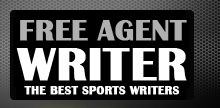 Yankee Addicts
Categories
Featured Sponsors
News published by
December 26, 2016
The Pittsburgh Steelers can be confusing, but in the best way possible. Their brand of offensive confusion in 2016 has led to mounting production from dynamic weapons, 10 wins and ...
December 23, 2016
Tom Savage will stare down a long list of looming and daunting questions Saturday night. Then he'll either be engulfed by them or put out fires one at a time. He's ...
December 22, 2016
There's a resistance to handing the NFL Most Valuable Player award to anyone who doesn't play quarterback. That stubbornness is understandable given how physically demanding and mentally terrifying the position is ...
December 16, 2016
The 2016 NFL season was still young back on Oct. 3. It was the first Monday of October, and Week 4 was nearly complete. The time for blaring alarms and ...
December 13, 2016
There's an annual debate in December as the NFL's Most Valuable Player race rounds the corner and sprints to the finish line. We ask ourselves this question repeatedly: What, exactly, ...
December 6, 2016
Mike Evans is still a pup in his NFL career. Yes, he's among the tallest breeds and the Great Dane of his position. But as the Tampa Bay Buccaneers wide ...
December 5, 2016
You've seen the commercial roughly 200 times now during NFL Sundays. An older man slowly walks up to the top of a diving platform as his iPhone provides the background ...
November 24, 2016
As he stood in his own end zone with the ball on the 2-yard line, it seemed Detroit Lions quarterback Matthew Stafford had surely met a fourth-quarter comeback hurdle that ...
November 23, 2016
Frank Gore has a way of making you question football assumptions. He has a way of shrugging while shattering barriers. He has a way of turning the question of legacy ...
November 21, 2016
Not long ago, Seattle Seahawks quarterback Russell Wilson had a live-in physical therapist. He would wake up in the middle of the night for intensive round-the-clock treatment on his sprained MCL ...