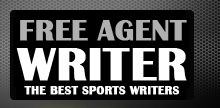 Yankee Addicts
Categories
Featured Sponsors
News published by
February 4, 2011
Every year, there's a magic moment that makes up a Super Bowl. The year before, it was the Tracy Porter interception off of Peyton Manning that propelled the Saints to ...
January 29, 2011
The NFL brand has lived on plays and moments that have stood the test of time and that stick with us for years to come. These playoff games are a ...
December 20, 2010
This season for the Cleveland Browns has been in a sense, erratic and inconsistent. There have been positives in this season, but mostly the negatives outweigh the positives.The team has ...
September 26, 2010
The Browns are once again 0-2 after two close games. This week they face the Baltimore Ravens, who are coming off a loss against the Cincinnati Bengals.It doesn't help that ...
September 20, 2010
The season once started with optimism, now it's back to the way it was in 2009.After an 0-2 start, it's back to Baltimore, who smoked the Browns, 34-3, in Week ...
August 16, 2010
Just recently, the Browns signed Jake Delhomme to a two-year deal, and traded for Seneca Wallace.People thought it was crazy to sign Delhomme, who was coming off his worst season ...
August 7, 2010
The Browns have been mired forever in quarterback controversies since the return and they mostly have been horrible for the team, and in no way is good for the team. ...
July 31, 2010
The Crennel Era was in shambles after the 2008 season. The team went 4-12, and quite frankly needed a reboot. The team quickly hired Eric Mangini, who coached the Jets ...
July 28, 2010
For the past few years, the Steelers have been in controversy over scandals and misdeeds. The tribulation and trials of these scandals have a taken toll on the Steelers organization. ...
July 28, 2010
The AFC North has an indefinite amount of good and great wide receivers, such as Terrell Owens, Anquan Boldin, Hines Ward and Mohamed Massaquoi. More importantly the AFC North teams ...