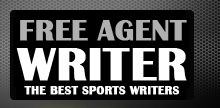 Yankee Addicts
Categories
Featured Sponsors
News published by
July 14, 2010
Terrell Owens is surprisingly unsigned, and Owens hopes to sign with a team before training camp. Here are the possible suitors that could sign Owens.Begin Slideshow
July 14, 2010
I have recently been hearing about this so called negativity regarding my beloved Browns, and I think it's wrong, although somewhat justified. I know the Browns have been tremendously horrible over the past few years, and their ...
July 11, 2010
Seeing LeBron James leaving Cleveland actually coming to fruition, I realized it wasn't the worst thing Clevelanders had experienced. There are many things that have gone wrong in Cleveland history, ...
July 10, 2010
In the recent sadness and disloyalty that LeBron James has shown to Cleveland by defecting to Miami, I decided to show that Cleveland has experienced happy moments too, and even ...
July 6, 2010
For years and years, the Browns have had tons of uniform combinations. Some of them have not been too pretty and some have been awesome. Inside, I will unveil the ...
July 5, 2010
For many years since the Browns have returned, the new Browns have mostly mired in agony and pain. The team was down on its luck when it returned in 1999, ...
June 19, 2010
The NFL is a offensive minded game today. Offenses are built to pass, and defenses are built to defend it. Most offenses view the running game as secondary. Inside this ...
June 18, 2010
A new beginning. Every team starts undefeated. Everyone's season starts with hope and optimism, and the Cleveland Browns' 2010 season is no exception. They are riding high off a four-game ...
June 17, 2010
For many years in the National Football League, there have been proven players and unproven players. Players that have proven themselves are often veterans, players who spent many years in ...
June 17, 2010
Football is a violent sport, one that often causes injuries and physical harm. It's amazing that some of the athletes perform the way they do without really injuring themselves. They sacrifice everything in ...