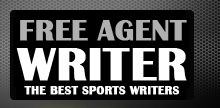 Yankee Addicts
Categories
Featured Sponsors
News published by
January 14, 2011
With the Chicago Bears' upcoming playoff game with the Seattle Seahawks only a few days away, most NFL writers (who seem to have run out of ideas with the Bears ...
January 6, 2011
The biggest news coming out of the NFL?  The Tennessee Titans declining the head case of Vince Young and sending him off to the free-agency waters. And by Bud Adams, that is ...
October 20, 2010
In reaction to a new story by Yahoo's Chris Chase that Tennessee Titans coach Jeff Fisher was asked towards the end of the "Monday Night Football" game between Tennessee ...
October 20, 2010
The poor days of Jay Cutler. I still can't believe he can actually still get up in the morning and move around. Cutler has been turned into a hacky sack by ...
October 14, 2010
The Seattle Seahawks come off their bye week in good spirits—they are 2-2 and still in the hunt for a playoff spot—and they welcome in the newly-acquired RB Marshawn Lynch. Unfortunately, ...
October 8, 2010
Although it might be difficult for the Seattle fan base to be happy with the Seahawks right now, especially after the disheartening 20-3 loss at the hands of the St. ...