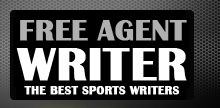 Yankee Addicts
Categories
Featured Sponsors
News published by
March 26, 2011
There has been a lot of talk about the NFL draft recently for obvious reason, but I'm looking to point out some of the best players already under contract.This article ...
September 11, 2010
Hello everybody! Welcome to the 2010 NFL season!Everyone is excited to get their team's game going. Every team from the Browns to the Steelers to the Jets to the Patriots ...
June 24, 2010
The Steelers secondary has been well known over the years as one of the best around. last year, there was a lapse in their play due to some injuries, but ...
June 24, 2010
Here is the link to Part 1: Offense http://bleacherreport.com/articles/403436-afc-north-depth-charts-and-evaluation-pittsburgh-steelers-pt-1-offense The Steelers' defense was less than stellar last year in the fourth quarter but people seem to have forgotten the fact they were ...
June 23, 2010
I have been doing exclusive slideshows pretty much my entire writing career. I decided I would do my regular slideshow-style article in an article format! It's been forever, so let's hope I'm not ...
June 22, 2010
Flag football. Steve Smith, of the Carolina Panthers has broken his arm playing one of the less dangerous sports around. The Seattle Times reported this injury to have happened Sunday, the 21st. ...
June 9, 2010
Hey everybody! I have been wanting to do this article all off-season and considering that it is pretty much over....I can competently do so. I really have very little to say ...
May 28, 2010
Hey guys! If you know me very well, you will know that I have a video-game addiction that rivals some people's heroin addictions. The only difference is that mine isn't ...
May 22, 2010
  Hello everybody....this article is literally my first non-slide show since...my fourth article or so. It has been so long! That's why I wanted it to be on a subject I am ...
May 13, 2010
Apparently they are really going DEEP into the depth chart for Ben's suspension replacement! I think Keyaran Fox should stick to being a linebacker. I haven't seen any picks yet, so ...