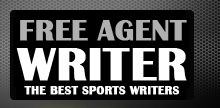 Yankee Addicts
Categories
Featured Sponsors
News published by
March 30, 2010
I was amazed by the amount of reads my last article has received. It was just an article about inside linebackers. I would never have expected such a great response...especially ...
March 18, 2010
What can I say!?! I'm a Timmons fan! Anyway, I love doing these lists. I seem to get some good reaction and reads, so I decided to make them my main ...
February 17, 2010
Some of you may be wondering "Why did I just go to a list of 7? And why is it about QB's?". Well, I know it isn't because Google decided to ...