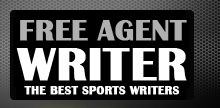 Yankee Addicts
Categories
Featured Sponsors
News published by
February 12, 2011
Brett Favre: So is he or is he not... going dancing?First, he is.Kurt Warner recommends him.We see videos of him doing his "Ice Ice Baby" stuff.Then he isn't.ABC comes out ...
January 30, 2011
"I Only Watch the Super Bowl for the Commercials"       A few days ago a person made the above statement to me.    You'll be ...
January 16, 2011
A McDonald's employee was canned for letting Adrian Peterson use their can.You heard that story, right? A female drive-thru employee was on her late-night McDonald's shift at 3 a.m. when ...
October 30, 2010
With intentions to review several sports DVDs for Bleacher Report, this is my first. Yes, the DVD's been out a while. Yes, my review was based on my theater visit, but ...
September 8, 2010
QUOTE WARS: QUARTERBACKS vs KICKERS This week on quote wars, we're looking at quarterbacks vs kickers, two of the flakiest positions in NFL football.  Do you doubt us? Kickers have ...