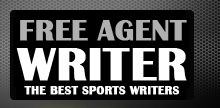 Yankee Addicts
Categories
Featured Sponsors
News published by
April 6, 2011
The San Francisco 49ers have hosted Penn State tight end Brett Brackett for a private workout. With Vernon Davis, Delanie Walker and Nate Byham on the roster, and Davis fresh ...
February 9, 2011
When your team doesn't make the Super Bowl, you can at least hope for a good game to watch. The Packers and Steelers delivered, with the game coming down to ...
December 4, 2010
Dixon's improvement is the pivotal point to the 49ers' ground game in Frank Gore's absence. While Brian Westbrook may have cemented his place ahead of Dixon on the roster, ...
October 30, 2010
I am not here to tell you that Nate Davis is our savior; in fact, I will concede to you that the jury is still out on him. Some may ...
October 27, 2010
When Mike Singletary was appointed head coach of the San Francisco 49ers, he was quoted as saying "Our formula is simple, we're going to go out and hit people in ...
September 11, 2010
We've all heard recently how the media is trying to ruffle the team's feathers, blowing the Crabtree-Davis confrontation out of proportion, labeling him a "diva", and progressively making him out ...
August 30, 2010
When Glen Coffee stunned the NFL with his retirement, the San Francisco 49ers still had three running backs on their roster. This was the number of running backs they carried ...
August 30, 2010
Anthony Dixon broke on to the scene in the Colts game with 100 yards rushing and 22 more yards on three receptions. These are respectable numbers, but perhaps what spoke ...
August 18, 2010
According to league sources, the Seattle Seahawks have released former Chicago Bears running back Adrian Peterson. Oddly enough, the move comes the same day that the Tennessee Titans cut Pete ...
August 17, 2010
The San Francisco 49ers have been a long way away from greatness over most of the last decade, with the performance of the team dying off hard after 2003. Many ...