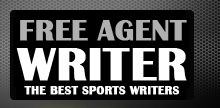 Yankee Addicts
Categories
Featured Sponsors
News published by
August 17, 2010
In 1979, Bill Walsh took over a club that went 2-14. Two years later, "The Catch" stunned America's team and propelled the 49ers to the franchise's first Super Bowl Victory ...
July 24, 2010
This list was done from the perspective of how the outcome of the questions posed affect the team's number of wins and losses or how far they go in the ...
July 10, 2010
Mike Singletary has nailed down that Alex Smith is the starter going into 2010, but how will the rest of these guys pan out? Are there even enough snaps in ...
July 9, 2010
49ers rookie second string RB Glen Coffee disappointed 49ers fans last year with 2.7 yards per carry. I have heard a number of fans dismissing him as a bust already. After ...
July 9, 2010
Julius Peppers was shipped to Chicago, Jake Delhomme was considered expendable, and Thomas Davis suffered the second serious knee injury of his career. The 2010 First round draft pick was ...
July 9, 2010
The San Francisco 49ers will probably make the playoffs in 2010. Because this speaks more for divisional weakness than 49ers strength, it leaves a large window for how the 49ers ...
July 7, 2010
Frank Gore is the player that the San Francisco 49ers offense revolves around. He is one of my personal favorites, and I hope he finishes out his career in SF. So ...
June 23, 2010
Alex Smith has been the victim of a bad system. Honestly, I'm amazed that the guy didn't throw in the towel and go somewhere else. Not because he can't hack it, ...
June 20, 2010
Of any draft pick I have seen the 49ers make, I don't remember any that I perceived as having a bigger difference between upside and downside potential than Taylor Mays. What ...
June 17, 2010
Beef... It's what's for dinner. If you're a 49er Faithful, it's what's for draft! Last year we added a semi-developed linebacker, a raw talent corner, a short blazing receiver and ...