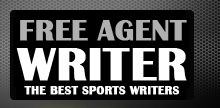 Yankee Addicts
Categories
Featured Sponsors
News published by
July 8, 2010
With the NFL season approaching faster than we think, it's time to start looking around and in this case, ranking the NFL's 32 starting quarterbacks. In cases where a starting quarterback ...
May 13, 2010
In 2008, the New York Giants had the best rushing game in the NFL. But when the 2009 season came, 1,000 yard rusher Derrick Ward left for Tampa Bay and ...
May 7, 2010
If I asked you on May 5, 2010 who Lawrence Taylor was, you would probably respond that he was one of the best linebackers of all time. You may say that ...
February 15, 2010
Ever since the New York Giants released defensive captain and middle linebacker Antonio Pierce, they have been looking for a replacement, whether it be through free agency or the draft. The ...
January 9, 2010
It's that time of the year. Everything that these 12 teams have worked for during the course of the regular season will all pay off now. Even though my team isn't ...
January 7, 2010
The 2000s have been a decade of ups and downs for the New York Giants. They have been through new coaches, quarterbacks, and seen many other players come and go. But ...