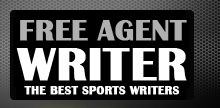 Yankee Addicts
Categories
Featured Sponsors
News published by
April 30, 2010
Today marked the first day of the Jets' rookie mini camp. The biggest story of the day, besides the Santonio Holmes incident , was running back Joe McKnight ...
April 25, 2010
The New York Jets have been actively signing players in the undrafted free agent market, hoping to add some young depth to the back end of their ...
April 25, 2010
Round 1 (29): CB Kyle Wilson Wilson was one of the top cornerback prospects in the 2010 draft. Cleveland said it was a "coin-toss" between Joe Haden and Kyle ...
April 2, 2010
Free agent kicker Jay Feely and the Arizona Cardinals have agreed to terms on a contract. The terms of the deal have yet to be released. Feely spent the past ...
March 31, 2010
Ever since Mark Sanchez called Brandon Marshall to wish him a happy birthday, the rumors of the Jets' interest in Marshall seem to be heating up again. There's ...
March 26, 2010
Denver Broncos wide receiver Brandon Marshall turned 26 earlier in the week and celebrated his birthday at a night club in Las Vegas. Apparently, Mark Sanchez gave him ...
March 22, 2010
Wide Receiver Starters: Braylon Edwards and Jerricho Cotchery Backups: David Clowney, Brad Smith, Danny Woodhead, Aundrae Allison Key Losses: Chansi Stuckey   Analysis The New York Jets have lacked a ...
March 22, 2010
I've been reading a lot the past few days about a possible trade involving the Jets and Alan Faneca.  Of course, the first thing I did was trace ...