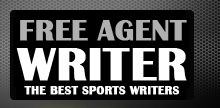 Yankee Addicts
Categories
Featured Sponsors
News published by
January 9, 2017
The preliminaries are out of the way in the NFL playoffs, and the heavyweights are about to take center stage. The divisional round often represents the best and most exciting weekend ...
January 9, 2017
The New England Patriots had the best record of any team in the regular season, and they are the clear favorites to win Super Bowl LI. They begin their run Saturday ...
January 8, 2017
The Houston Texans were a determined team in their wild-card meeting with the Oakland Raiders. The sting of a 30-0 home defeat at the hands of the Kansas City Chiefs in ...
January 7, 2017
The first game on the NFL playoff schedule Saturday is the one that probably has the least flash and intrigue of the four on the schedule. As a matter of fact, ...
January 6, 2017
Should the Detroit Lions even bother to show up for their Wild Card game against the Seattle Seahawks? If you look at the way the Lions have been playing recently, the ...
January 5, 2017
How can the Miami Dolphins hope to match up with the powerful Pittsburgh Steelers? The Dolphins have not officially ruled out Ryan Tannehill (knee sprain) for their playoff game in Pittsburgh, ...
January 4, 2017
Give the NFL credit for its Wild Card Weekend schedule, because it certainly knows how to build to a crescendo. The first two games on Saturday are not quite as compelling ...
January 2, 2017
It's not unusual to see one of the teams playing on Wild Card Weekend to emerge and represent its conference and possibly win the Super Bowl. The Baltimore Ravens won the ...
January 1, 2017
The Oakland Raiders have a huge task in front of them Sunday when they take on the defending Super Bowl champion Denver Broncos at Sports Authority Field. If the Raiders can ...
December 31, 2016
With one Sunday to go in the NFL season, 10 of the 12 playoff teams are known commodities. There are two openings up for grabs, and there is quite a bit ...